The winner of EAEA's Grundtvig award, FILM-IN project involved its learners in film-making to foster active citizenship and tolerance.
Films are a staple of our collective consciousness. At the same time the "the seventh art" is the most undemocratic of all the arts. There is a lower threshold to try one's hand at writing, painting or even music. Film-making, however, often requires at least specialist knowledge of production and shooting techniques, if not a production crew.
Naturally an auteur armed with just a video camera and a Vimeo account can share his vision with an audience. Nevertheless, a larger-scale production calls for a team and expensive equipment.
The European project FILM-IN sat its learners into the film-maker's chair. The project involved learners from six different countries and, spanning two years, consisted of studies of film history and practice, analyzing iconic European films and most importantly writing and shooting own short films.
Video camera and YouTube is all you need to fulfil some kind of cinematic vision.
Elaborate productions however require a production team, money and expertise.
Photo: stock.xhng
Friendship shatters stereotypes
The FILM-IN project's main goal was to encourage its learners into more active citizenship. An indirect goal was to fight xenophobia and nationalism.
The project's coordinator, Lithuanian Jone Cesnaite believes that both main goals were reached:
-The learners produced a total of 72 short films where they tackled the problems of their countries head on. The films were made at home, we discussed them in international groups during transnational project meetings. We also made some films together during 6 international workshops.
Here is an example of a one-minute film made in two hours at project meeting in Sicily.
Cesnaite defines active citizenship as finding one's own voice and the confidence to express oneself, in one's own community and country, in the EU, and the world as a whole. Film making provided such outlets of expression for the learners, many of whom were unemployed, seniors and immigrants.
The learner groups were heterogeneous. The friendships forged within the project worked effectively against bias and stereotypical thinking towards other nationalities, religions and sexual orientation.
Harnessing the magic of the silver screen
In addition to careful project planning, FILM-IN benefited from the universal appeal of films.
– I feel the project tapped into an existing love of film which transcends cultural borders. We just had to offer the framework for the learners' enthusiasm – after that the project took on a life of its own, Cesnaite explains.
Furthermore, project tasks and output were well suitable for discussing and sharing in social media, using YouTube and other online resources like weblog and Facebook. This added the element of ICT skills development into the project.
Results motivate under budget strain
Chronic lack of money was a hardship for the project according to the coordinator. The participating organizations worked away on a tight budget, often clocking in extra hours for FILM-IN in addition to day-to-day duties. Jone Cesnaite explains that sometimes it proved difficult to motivate the staff for all the extra work.
Hard times were forgotten when the project team began witnessing the positive impact the initiative had on the learners.
-We were reminded that this kind of learning is the reason for our organizations' existence!  Cesnaite exclaims.
---
Learner: I am encouraged to keep studying
Lithuanian Jurate Galciene, 75, participated in FILM-IN project. She first heard about the learning opportunity and decided to give it a try.
The most enjoyable part for Mrs Galciene was immersing herself in watching films and learning about them – the films were discussed in English which presented another learning opportunity.
-This project helped me to renew my English knowledge; I haven't used my English for about 20 years. Now I became more confident in socializing with English speakers.  Also, I enjoyed socializing with people of my age, Galciene says.
Jurate Galciene's only criticism concerns the long pause between learning sessions. Activities took place only once per two weeks: once or even twice a week would have been preferable.
– Also, I wish we would have had the possibility to visit project participants in their home countries. We hosted visitors here in Lithuania but had no possibility to go overseas ourselves.
For her, the project impact is tangible. Mrs Galciene explains she has been encouraged to participate in further projects:
– Right after FILM-IN, I joined a group of my peers in the University of Third Age, in the faculties of Culture, Tourism and Health.
---
EAEA jury praised creativity
The European Association for the education of Adults (EAEA) hands out the yearly Grundtvig award to a successful European learning partnership. This year's theme for the award was active citizenship and transnational solidarity.
The EAEA jury lauded the winner, FILM-IN for "unlocking [the learner's] creative potentials … to empower them and to prepare them for meeting other cultures and exchange with them." The Grundtvig award was given to the FILM-IN team on 6th of June in the General Assembly of the EAEA in Leicester, England.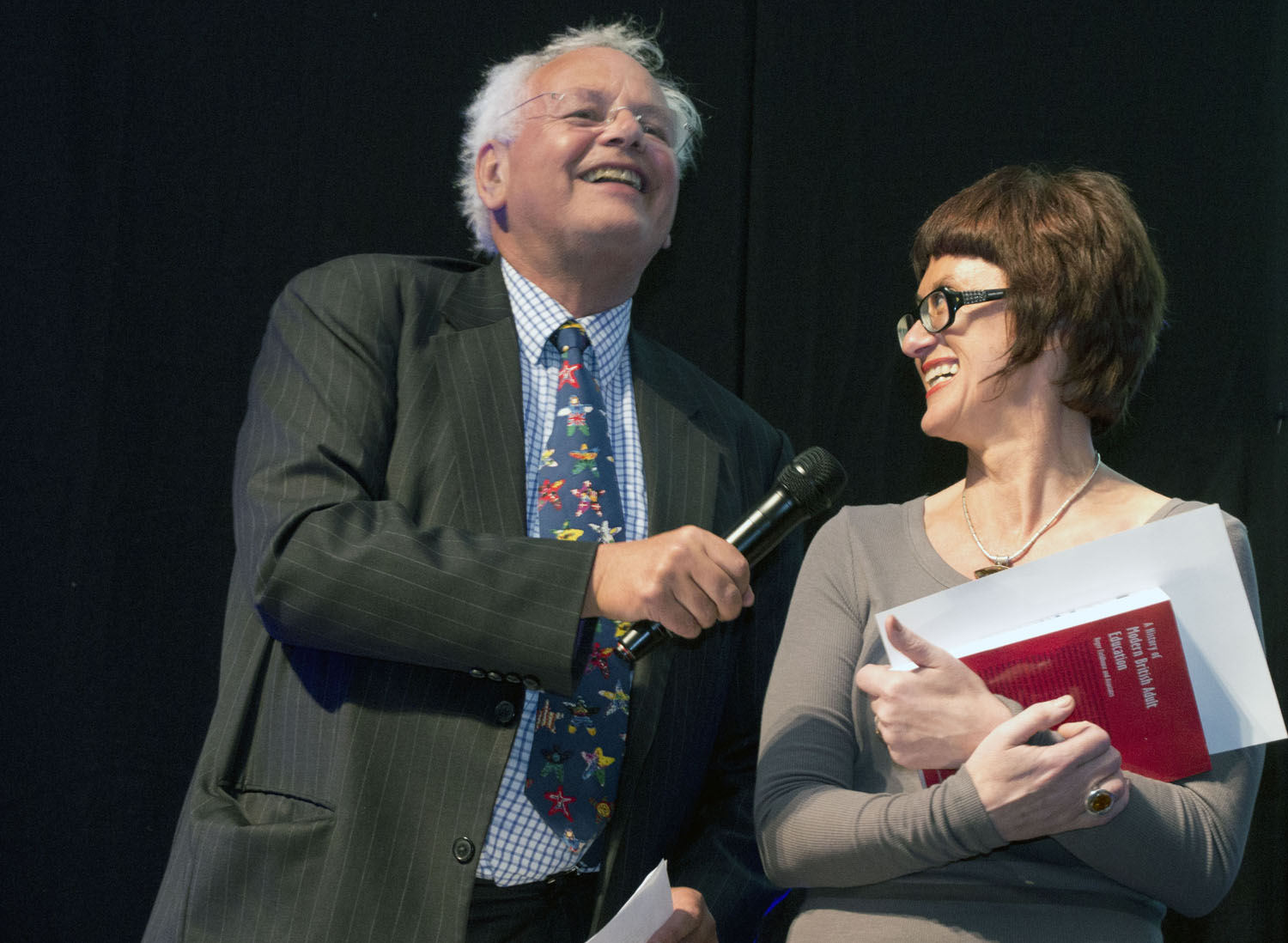 Sharing a laugh: Jone Cesnaite receiving the Grundtvig award from Alan Tuckett,
President of International Council for Adult Education, in Leicester, UK.
Photo: Aura Vuorenrinne
FILM-IN project
Time frame: 2010-2012
Target group: adults who have experienced mental health difficulties, senior citizens, unemployed, retired adults, immigrants, early school leavers and people at risk of social exclusion
Partners:
Jolingva, Lithuania (Coordinator)
Centro Territoriale Permanente .10 I.C. "E. Fermi" Italy
360 graden Theater, The Netherlands
Didaxis, Portugal
Kayseri Teknik ve Endustri Meslek Lisesi, Turkey
Eastern Vocational Enterprises Ltd., Ireland
Aims: To stimulate social inclusion by enhancing creativity, to increase ICT and language skills, to strengthen cultural awareness and knowledge and fight xenophobia.
Activities:
1. Film history studies.
2. Students picked iconic feature films from their country representing their culture. Learners watched each other's choices.
3. Studies in practical film-making.
4. Producing short films.
Short films produced by FILM-IN are in YouTube under the handle GRU-FILMIN