If learning is everywhere, if our lives are immersed in it, then what happens with refugees' learning? How does learning continue for them as they try to reach safe soil? By which means does learning provide them with survival necessity? In this essay, I look for examples of how media support refugees' transition by providing learning content for them and native populations.
Adult learning and migrations
Demographic changes have always posed a major challenge for adult learning and education. Population movements change the structure of societies and re-construct learning needs of both resident populations and the incoming peoples. However, education providers might be slow at shaping their responses and structuring learning programs, while the need for proper knowledge and informed action only increases.
In the meantime, as we are waiting for a structural and organised response, informal learning has already infiltrated and imposed itself as a crucial player. Its effectiveness in this sense is due to its flexibility, omnipresence and possibility to pack a message in any possible form, deliver it instantly with minimal financial investment from the learner. Informal learning here actually becomes instant learning featuring the capability of delivering already prepared pieces of information, ready to be used without requiring any deeper processing and reflection from the receiver.
Media messages – a form of instant learning
I understand instant learning as a process – formal, non-formal or informal – related to practical value, with no transfer value, in a certain given situation. For example, instant learning happens when a person studies certain locations only for the purpose of finding the right way in a given situation. Deeper learning would require a person to undertake a serious study of the area to understand the space and relations in it. This kind of insight would have more general meaning and the information required would be more transferrable to different situations.
The secret of instant learning's success is, however, in addressing an immediate learning need – of the existence of which many hadn't even become conscious of.
Yet, there is an intriguing question of such instant learning's final outcomes. It seems as we have a kind of a two-faced Janus effect; instant learning is commonly non-critical, somehow consumeristic, narrow and liable to possible manipulation. It contains useful information of significant practical function, but rarely leaves space for critical questioning of its validity blurring the not so obvious relationships and meanings.
This is so because the process of accumulating information is not equal to knowledge construction. Here we arrive at the first closer step towards the meaning of literacy in today's world – media literacy, as well. Functional media literacy actually means the active participation by a person. In the knowledge construction process, a learner sets her frame of references and embarks into processes of evaluating and questioning alternatives. In the passive information acquisition process, a person takes in some pieces of already prepared knowledge intended to be consumed and digested instantly.
Here lay, in fact, the possible traps of instant learning, as it leaves little space for critical reasoning and questioning. The logic of structuring a media message is primarily informative and consuming, which does not necessarily mean that the message is educative. However, media do eventually impact a person's emotions, attitudes and actions, and act as the significant learning channel.
Today's most common source of such instant learning is surely media in its various forms, from traditional (newspapers, radio and TV) to those of the more recent date (internet, social media, youtube, smartphones, etc.). However, a learner is seldom aware of the official media's ultimate goal and further implications of the contents they present. To use a well-known McLuhan metaphor, we are swimming in the sea of media not being conscious of it just as a fish is not conscious of the surrounding water.
Space for adult educator action
What worries adult educators is the fact that shaping media messages is often beyond their power, whereas the media content plays as a significantly powerful (instant)learning agent. Thus, the media can easily become a Trojan horse, ultimately causing reverted results, as they manipulate people by communicating them half-true messages and imposing some pre-constructed meanings. Examples are numerous; tabloid papers' writing about refugees gang-raping women, without proper fact-checking, or headlines about refugees carrying sums of money, without considering that this limited amount is all they actually possess. Yet, this seemingly hopeless state of affairs might hide some new possibilities for action.
What adult educators certainly can do for media literacy is continuously be engaged in raising awareness and educating people how to critically read, analyse and interpret media contents, how to question messages, and distinguish between the accurate and manipulative reporting.
To put it simply – we cannot escape the responsibility of enhancing the level of media literacy, and the responsibility increases as our reality becomes more complex and media louder.
Various meanings of media literacy
Beyond this seemingly easily written diagnosis and prescription, there is a tricky question of what does it mean to be media literate for specific groups of people? So many concepts in the realm of adult learning and education have this vagueness. In order to understand them, we need to dive into the context and try to see with the eyes of someone "inside that reality".
I argue that there are at least two meanings of media literacy when we place it in the current refugee situation – its meaning for refugees and for native populations. Accordingly, we can see two complementary ways of using media in learning purposes; one, aimed at educating and informing the native populations on the recent events related to refugees' transition by giving them accurate first-hand insight into the real experiences of the migrants. The other is directed to providing learning support for refugees (mainly via smartphones and internet) as they are passing through their route.
In the following parts, I shall present examples of both modes in their relation to the potential for enhancing media literacy of either group. But, first let me say a few words about an ironic play of destiny subsumed in the term 'transition'.
Refugees' transit route and transition countries
The majority of today's western Balkan countries, e.g. ex-Yugoslavian republics, following their secession and gaining independency became labelled as 'transition societies'. The term was widespread in public arena and media to the extent that it became overexploited and confusing, sometimes annoying. The usage of the term had a palliative effect, though. Being a 'transition country' became an excuse for all societies' fallacies and, quite frequently, citizens' indolence and lack of active participation in public matters.
However, obviously, transition for each of these six ex-Yugoslavian republics did not mean the same, but it somehow represented their current political and social incompleteness, and aspirations for democratic state embodied in the European Union. Nowadays, two of those countries (Slovenia and Croatia) are EU member states, while the other four (Bosnia and Herzegovina, Macedonia, Montenegro and Serbia) are on their road to EU membership, although in different statuses.
Four countries of the western Balkans (Croatia, Serbia, Slovenia, and Macedonia) used to be a 'transit route' for the refugees, in addition to Turkey and Greece, which still continue to play a far more significant role. If any population in the whole Europe is more familiar with displacement and transition (both political and geographical) and refugee experience, that would be peoples of the western Balkans. In spite of this, their response to the situation was surprisingly indifferent, and sometimes ultimately negative. This was especially so at the very beginning.
Some level of political support and change in discourse started to appear following the announcement that refugees were only transiting through the Balkans, and continuing their route towards western or northern Europe. Again, being at transition had a palliative effect. Now, it was in a form of a much needed consolation for western Balkan population that the refugees are not coming here to stay with them.
But, why is it so? How come that these people failed to recognise displacement, uncertainty, exhaustion, political ambivalence, media confusion… all of which were part of their collective drama in the early 1990s, during the war campaigns in the region? Some experiential learning here would help the identification of seemingly remote connections and to minimise the negative effects of catastrophic and biased media reports. Here we arrive at the meaning of media literacy for native populations – increasing the level of consciousness and ability to search for meaning beyond everyday politically constructed messages.
Media literacy and critical thinking – native populations' perspective
In the early 2000s, Marc Prensky coined the terms 'digital natives' and 'digital immigrants' to illustrate change in educational needs of the new generation of school students and challenges for their educators. 'Natives' stands for today's children, while adults are immigrants into their world, forced to learn the natives' way of living in order to maintain communication and perform their educative role to which they are entitled as representatives of the older generation. What the immigrant adults need in relation to their native children is to make sure they acquire a certain level of digital literacy.
Analogy can be drawn with the refugee situation – both refugees and native populations are in need of relevant information and timely action. Amidst the whole scuffle around refugees and discussions of whether they should be allowed access to Europe, few of us would dare to ask what is it that we need, as refugees are coming to our countries. Still, it is obvious that they are not the only ones in need here.
Native populations' acute need is improving their level of media literacy. In this case, it means learning to look beyond media reports for real life stories, far from election campaigns and political talks, and to be able to see a human in someone, whose whole life and various identities are today put under a single designator – a refugee. Media has obviously played its negative or, at least, ambivalent role in this process.
This is also reflected in using the term migrants/immigrants almost interchangeably with the terms refugees and asylum seekers, in addition to merging the refugee discourse with the discourse of terrorist attacks performed recently around Europe. The public space has become overcrowded with articles abounding in politicized speech, stereotypes and inappropriate allegations.
On the other hand, there are hundreds of ways to offer an accurate insight into the situation and dismiss the fear of the native populations. In the following part, I shall present some of the positive examples of how different media tools were utilised to educate native populations and, effectively, how this resulted in mitigating the transition process for refugees. The examples include: a multimedia project with a documentary movie, alternative news portals, social media and photography.
Multimedia Project Anima Hotel Europe
Multimedia Project Anima Hotel Europe was initiated in 2013 as Croatia joined the European Union and thus became the Schengen final frontier. Questions of borders, illegal immigration, human trafficking, etc. gained an increasing topicality in the country. It was now facing the new challenges which native population was not even aware of, not to speak about its readiness of responding adequately. The initial intention of the authors of Hotel Europe was to present the life of illegal immigrants, their hardships, unbearable conditions, human rights violations in their home countries and the burdensome unwanted journey they had to undertake in order to reach freedom.
The project is designed with the intention to allow users follow the real people and the process of their journey on a daily basis via a website and social media. The final product is a series of documentaries depicting these peoples' authentic stories. As the refugee situation started to emerge, the significance of the project was increasing, so it now becomes a valuable source of learning for native population. All items within the project have strong symbolic meaning and call the reader or viewer to actively participate in reaching the meaning. On the level of content, its value is that it offers an accurate image on who these people are, what they used to work at in their countries, how difficult it was to leave their homeland and head into the uncertainty. The documentary itself is almost speechless, yet it communicates so much – voice is reduced to the minimum, every person speaks in his or her own words, own fragments of life and memory. This also contributes to the meaning construction process from the viewers.
Alternative news portals and photograph journals from the site
Alternative news portals have become an invaluable source where the native populations can find reports on the actual situation inside the refugee camps, in the form of journals and photo reportages. Journalist Žarka Radoja was continuously publicizing photographs and messages from refugee camps reporting on the refugees' needs, fears and maltreatment via the portal KontraPress and her Twitter account. Her goal was to mediate between the refugees and citizens of Serbia by explaining them how they can give their individual contribution to lessening their pain. This kind of content plays as a set-off to those highly politicised portrayals in the country's mainstream media.
Social Media
Ever since the Arab spring, Ukrainian uprisings and similar global events, social media became synonymous with civil initiative and organisation. In the refugee situation, social media inside the transit route played a decisive role in organising volunteers and providing humanitarian help. Social media is also used as a powerful learning platform, such as the Facebook group Budimo ljudi (Let's Be Humans). The group pronounces a rather radical critical tone directed at raising awareness of human suffering and needs. It publishes stories, video sequences and photographs all aimed at providing accurate media content about the refugee situation. What is special about the social media is their trend-setting power. By infiltrating people in a certain group/community, they give them a frame inside which they can speak their mind and openly discuss their attitudes.
In addition, there is a special learning tool designed for refugees in order to support them in the transition process, help them orientate and acquire relevant local information. So, in the next part, let us look into the modes of media supported learning from refugees' perspective.
Media literacy and survival – refugees' perspective
Learning is about change, and change is about movement – crossing spaces and borders. Learning has been the most authentic survival technique for humans.
Learning can occur at any time and at any place, using whatever devices and contents. Here we come to another meaning of media literacy – using any devices to acquire valuable knowledge and information. Our accustomed image of a refugee is not certainly someone who is in the first place engaged in the learning process. But, if we recall the centrality of learning for our everyday functioning and our life, we will see a learning need emerging from every situation. Due to their dynamic state, learning is best offered to refugees in the form of mobile phones, e.g. smartphones bringing them platforms which provides them with information relevant for their current state.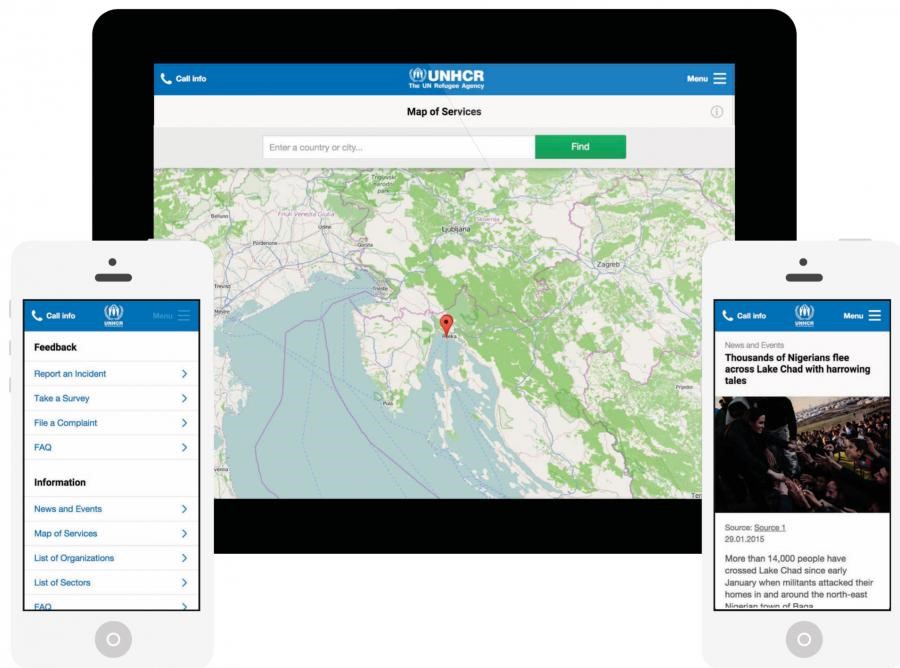 More and more smartphone applications are launched in order to provide learning platform for refugees. Screenshot, photo by hexis.hr
The continuity of the refugee situation and dimensions it has taken up gave impetus of thinking about rising learning needs not only of adults, but also of school children. It appears that in today's demographic changes and movements, smartphone applications and similar platforms flourish where school and official educational institution are too far to be reached.
Smartphone applications as a learning platform for refugees
There are several smartphone applications developed in the region aimed at providing refugees with valuable information (e.g. Asylum in Serbia and MyUNHCR).  In either case groups of young IT experts have come across an idea of utilising the new technological communication advancements in order to give their active contribution to mitigating the transition process for refugees. Similar applications are appearing elsewhere. They offer information about weather, currency, political situation, language expressions, translation tools, formalities regarding the refugee status and asylum requirements, maps and also possibilities of reporting assaults or maltreatments.
I have already expressed cautiousness in relation to instant learning. But, these smartphone applications are here the real example of a positive use of it and its lifesaving value. Now, we arrive at the meaning of media literacy for refugees. For them being media literate means to be able to use technological devices in order to obtain vital information and to maintain connection to their distant family members.
Conclusions
To conclude, I shall go back to the question of how media can mitigate the refugees' transition. It seems that its crucial role is in the ways we think of the situation and what we do in terms of constructive acting. The refugee influx will definitely have its overarching effects on our own self-questioning and self-defining, and a new construction of European identity. Our understanding of learning and ways of conveying it will also significantly change. Eventually, we might expect emergence of 'smartphone schools' just as a response to the huge number of students who are prevented from attending classes in a real school.
Actually, this is one more question of crucial importance for adult education. As we are fighting adult illiteracy worldwide, the current situation might turn today's refugee children into illiterate adults. So, let's do our best to prevent the escalation of the problem. As a beginning, anyone can post a facebook status or a tweet sharing ideas how media can help the refugees in their situation.
Further Reading
Brookfield, S. D. (2012). Teaching for Critical Thinking: Tools and Techniques to Help Students Question Their Assumptions. San Francisco: Jossey-Bass
McLuhan, M. (2014). The Medium is The Message. Corte Madera: Ginko Press Inc.
Prensky, M. (2001, September/October). Digital natives, digital immigrants. On the Horizon, 9(5), 1-6. Retrieved March 25, 2016, from http://www.marcprensky.com
Essay – in depth, in context.