Löbau is a small town of about 15 000 inhabitants in Germany's east. Since September 2015, the German Federal Ministry of the Interior has enlisted it, and other towns, to provide accommodation for some of the 450 000 asylum seekers, who have entered the country.
Three hundred new arrivals reside in Löbau. Apart from a roof over their head, the asylum seekers receive a modest allowance of 330 Euro a month. Furthermore, the Federal Employment Agency runs an orientation program in Löbau.
At present, seventeen asylum seekers from Syria, Iraq, Iran and Eritrea attend either morning or afternoon classes where they receive the foundations in German language over 300 hours of tuition.
Two three-hour sessions observed were lively and engaging. The teacher used a mix of drills and communicative exercises and the attendees enthusiastically called out answers. Even the two small children present in the afternoon class could not distract their mothers from learning.
One student in particular was noticeable for his enthusiasm. His name is Najib Atto.
Najib hopes to be reunited with his family, waiting in Lebanon. 
Najib's journey
An English teacher of Kurdish descent, Najib fled his hometown of Kobanî in Northern Syria for Beirut at the end of 2013.
-When ISIS came close to us the danger is closer to me and my kids, so I decided to take my family away from that black place, that black hole, because in Syria you can't live. In Syria you have to kill or be killed. There is no third choice.
Najib's wife arrived in Lebanon two months earlier with the couple's three children, one of whom is now unwell. Labour restrictions imposed by the Lebanese government on its 2.5 million refugees left Najib with little means to provide for his three children. He secured a loan and started on his journey to Europe, hoping to seek asylum in either the Netherlands or Germany.
Leaving Beirut was relatively straightforward. A plane brought him to Adana International Airport in southern Turkey. By bus he travelled to İzmir on the Aegean Sea. Across the water lies Athens and for many, such as Najib, the promise of a better life – or at least the first steps toward it.
He spent three days sleeping rough on İzmir's Basmane Square with thousands of other asylum seekers from Pakistan, Afghanistan, Iran as well as Syria. A relative in Turkey put Najib in contact with a people smuggler who happened to be a Kurd from Kobanî. For $1250 USD, Najib paid for an 80 minute journey under the cover of night on a 7.5m long rubber raft crammed with 46 other people.  It is a journey which many have not survived.
The brief, nerve-wracking trip ended in nearby Lesbos. Once on the island, he went by a combination of foot and taxi to a port, where a ferry carried him and about 1500 others to Athens.
An unsuccessful attempt to raise funds for forged identity papers spurred him onwards. The Greek-Macedonian border presented no obstacle to Najib and the five companions he met in Athens. After another day of switching between walking and travelling by taxi, they reached Serbia, a country which Najib was very positive about.
– Serbian people were wonderful, he said.
Serbian hospitality included a taxi driver willing to take all six of them about 70 kilometres for free and police willing to advise them how to cross the Hungarian-Serbian border. A cynic may argue that such friendliness was in Serbia's interest as it expedited the asylum seekers out of their territory. Yet, the gratitude in Najib's voice was genuine.
Following this warmth, crossing into Hungary was to plunge into cold indifference and naked hostility. Najib and his companions travelled at night and hid during the day to avoid police. Rumours fed their anxiety. They had heard the police had dogs (the presence of which has been shown in other media) and were warned against using Google Maps lest the authorities pinpoint their location.
– So we were lost, he said, for a moment reliving the despair.
A particular source of concern was the EU policy of fingerprinting asylum seekers. If registered in Hungary, Najib feared he would have no chance of claiming asylum in his country of choice, which at this point remained the Netherlands.
Despite their best efforts, the police caught the small exhausted group who had been in the country two days and took them to a camp. Registration now looked inevitable. Najib along with seven other men bribed a guard to let them go, and at seven in the evening their journey resumed.
Lost, bewildered and tired, the men met two Hungarian men around midnight. The Hungarians agreed to take the group if they would wait in the forest. Initially, Najib went along but quickly became suspicious. He convinced the others to return to the road where two different drivers would give them a lift to the outskirts of Budapest – at a price of 200 Euros per driver.
Staying one more night in Hungary, they headed to Austria, which for Najib was "perfect". He had his first hot meal here after seventeen days. It was also the first time he spoke with his family since leaving Lebanon. Two days later he was on his way to Germany. His initial destination was Munich, but at the border the police transferred him to a train to Dortmund, where he was welcomed by a crowd of applauding people.
– Whatever I do in this country, I cannot repay them their favour. With that, they did a lot.
Still, the Netherlands remained his preferred refuge. However, a relative in Düsseldorf helped change his mind. Citing Germany's strong economy as suitable for raising a family, he convinced Najib to seek asylum there, preferably in one of the eastern states.
So he set off for Leipzig. At the police office in the local train station, he requested asylum. The police officers were initially sceptical and asked if he was sure. Najib said he was.
– That was the 23rd September [2015]. On the 23rd of September I gave my fingerprint in Germany and I'm still waiting.
Life in Germany
The first accommodation provided in Leipzig was in a sports stadium with 400 other asylum seekers. On one hand Najib was grateful for the food and bed, but he saw that the young women and girls suffered because of the lack of privacy. Two months later he was transferred as part of German policy to Löbau.
At the time of our interview he has been in the town three months and ten days. It is not surprising he knows the exact period. Counting days is what he mostly does. At one point in our conversation, he describes it like waiting for Godot, after the Beckett play.
– I never wanted to be a refugee in Europe. It's too hard but the oppression perpetrated by all sides led us here, he said after describing his journey.
Teacher becomes learner
Now that he is in Germany, he recognizes the importance of learning the local language. He began the course on 9th of December, about two months after registering as an asylum seeker. Najib pointed out that this course was more of a preliminary course and not the full integration course. Given the temporary nature of their accommodation and their desire to obtain residency, many of the students, at least according to Najib, are keen to finish the course.
Najib praised his teacher for his "brilliant job". Najib, a teacher himself, recognised his new learner role as a challenge and welcomed the opportunity to meet new people.
– I used to be a teacher for a long time. Now, I'll be a learner for a long time too.
Admittedly, the experience of being an asylum seeker places additional stresses on the educational process not found in other spheres of learning.
– I can't focus when I think of my family. Of my sick kid. My mind is in parts. A part of my mind with my family. A part of my mind with my [residency] paper, a part in German [classes], a part in small problems here.
Najib has also observed differences between the Syrian and German educational systems The first difference he mentions is the poor standard of living of teachers in Syria. He felt that, back home, the financial burdens distracted them from their work.
With regards to the Syrian curriculum he taught, his verdict was surprisingly ruthless. He described it as, "ridiculous and meaningless learning." The education system, from his point of view, was focussed too much on marks and getting a degree.
– Things are different here. Concentration on the learning process is at a high level.
In his opinion, an additional advantage for Germany is the greater interaction between teachers and students. However, he acknowledged that this was based on his own brief experience within the adult education context.
Language learning is a door to new souls
Should his family join him, Najib aims to preserve his Kurdish identity. He said it was not pride, rather love. The love stems in part from how his mother tongue makes him feel, but also from a love of languages themselves.
– If you have one language you have only one view. To know a new language is to know new cultures…new souls.
Given the emotional toll of Najib's experience, the violence and death he said could not be so easily erased and the desperation of his journey, it is perhaps comforting to think that in some small way learning a new language will assist in the rebuilding he seeks.
Locals speak
Najib's story is only one side of the refugee story, albeit a particularly harrowing one. What about the residents of Löbau? How do they feel about the influx asylum seekers into their town?
Franziska, a 27-year-old optometrist, saw the acceptance of asylum seekers as the right course of action.
– If there was war in my home country, I would like that some other country would pick me up, and integrate me. And would welcome me.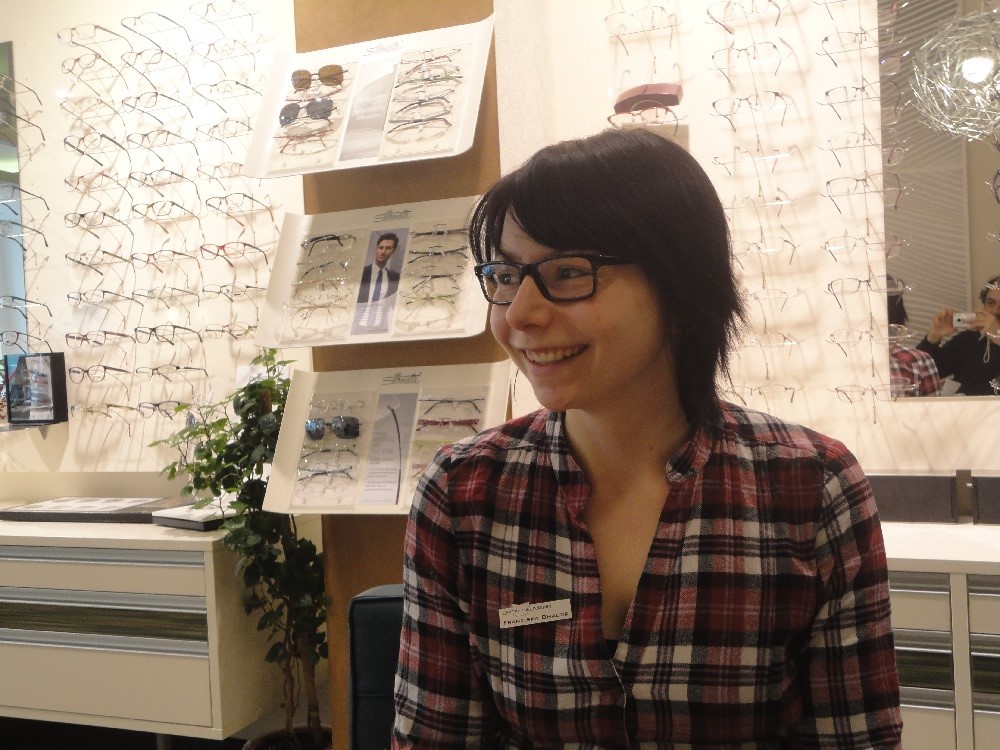 Franziska: If I was a refugee, I'd hope for a welcome
Stefan Aust, the 54 year-old owner of an antique shop on the town square, could somewhat identify with the asylum seekers because he had fled former East Germany for the West, where he had a chance for a new life. Perhaps this is why he does not classify refugees based on the cause of their flight.
– In Germany a distinction is made between war refugees and economic refugees. This distinction shouldn't be made. They all start from zero and need support.
Stefan Aust is a former refugee himself, from the East to the West.
Stefan and Franziska both attributed their open perspectives to travel.
Max, a sale assistant in his twenties, perhaps had the most regular contact with asylum seekers among the respondents since many come to his shop to buy phones or set up contracts. Much of the contact is in English, which Max understood since it took time to learn a new language.
Max (right) and his friend discuss the refugee situation in Löbau, their home town.
All the respondents saw language learning as crucial, though differed in their opinions about other skills. Stefan and Franziska mentioned the possibility of refugees learning about gender equality in Germany. The fourth respondent Marion, who has run the stationery store in town for 25 years, thought the refugees needed to learn more general rules of behaviour and had to be encouraged to find work, though she acknowledged work was in short supply in her town.
In Marion's (right) opinion, both cultural and vocational skills are important for refugees. On the left, Marion's customer Günther.   
Franziska, on the other hand, saw education as a two-way process.
– But also I think people living here have to change, you have to be tolerant of their [the refugee's] culture as well.
Secret to success?
Löbau has not witnessed the anti-immigration protests seen in other towns. The director of the orientation program, Anett Globig, confirmed the generally accepting attitude of Löbau inhabitants. The main reason she gave was the decentralization policy. The asylum seekers were not housed in one dormitory but spread out where possible.
Townspeople offered other reasons. Franziska said the politicians engaged more with the townspeople and allowed them input into the process. Marion believed demographics played a part. Löbau has fewer young men who may have felt threatened by the asylum seekers.
It may be premature to celebrate Löbau's situation. Najib certainly felt differently. From his perspective, integration had stalled.
– They want us to integrate, but in the meantime they put us in an island, he said in reference to his own living arrangements in a dormitory a 20-minute walk from town.
– Nobody is here to talk.
This could, and hopefully will, change for Najib. A few weeks after the interview was conducted, he was granted residency. At least for one asylum seeker, prospects have improved. For the many thousands still being processed, their status remains a waiting game.
Reportage – in the middle of it all