Introduction
The idea of the Antipodes, a faraway, unknown region on the diametrically opposite side of the globe, has fascinated people in Europe since the time of Copernicus. Though Europe and Australia, where I began penning this in the Australian summer as northern Europe froze over, are approximately antipodean, there is great value and many new tools for us to bridge the tyranny of distance and learn from each other. This article sets out good reasons for some reciprocal learning about adult education, specifically about men's learning beyond work.
In summary, despite approximately equal numerical involvement by gender in formal and non-formal education and training in most European countries (Eurostat, 2009), other data confirm that older men in most nations tend to be missing from and less engaged in many areas of formal and non-formal learning beyond work. In essence, when learning becomes more discretionary and less "hands-on" or vocational, older men tend not to participate. Veronica McGivney (McGivney, 1999; 2004) was one of the first researchers to rigorously document the nature and extent of "missing men" in adult education and training, in an environment in the United Kingdom where it was then unfashionable and sometimes hostile to write about such matters.
Dujo and Garcia's (2009, p.247) categorization of the three main adult learner groups in Spain has parallels in many developed nations including Australia. Aside from adults already securely in work, adult education in developed nations is primarily composed of young people, migrants and mature women. This final group of mature women who tend to participate in adult education, along with mature men who tend to be missing, are typically beyond work through withdrawal from the workforce, disability or retirement. As Dujo and Garcia note (p.247), such groups hardly generate "interest on the part of the labour market, either as producers or consumers", since "they do not generate wealth, they are not large consumers and therefore there is no interest in modifying their status quo."
It would be bad enough if people with more limited, early education were missing as adult learners simply because an adult education and training system was not available (as is the case in some Australian states). It is worse that education for adults that is hierarchical, formal, individualistic, "user-pays" and work or market-based actually reinforces inequalities. Fullick (2009), in a thematic paper for the Inquiry in the Future of Lifelong Learning in the UK observed that an "explosion in training and education in recent times has itself contributed to the diminishing status of people who are poor, unskilled and unqualified." Fullick (2009, in Schuller & Watson, 2009, p.35) concluded that "The explosion in learning as an aspect of consumption … has … become part of the complex patterns of inequality and exclusion."
Dujo and Garcia (2009) concluded that
"it is precisely in the industrialized countries with advanced economies where there is a high percentage of adults who, lacking the aptitude necessary to participate effectively in the society and the economy, are doubly marginalized by the educational and labour system or systems" (p.247).
There is an overwhelming emphasis in education and training in most developed nations, including Australia, on getting people into work and upskilling them once there. There is very little thought about what people, particularly men, want and need to learn to re-create and broaden their identities towards the end of and beyond their working lives.
Learning needs of older men beyond work
Schuller and Watson (2009, p.70) note that research evidence on gender differences in adult education is scarce. My research interest in the past decade (summarized in Golding, 2011) has sought, beginning in Australia, and very recently in Europe, to go beyond an investigation into "Why do men tend to be missing as adult learners in learning beyond work?" This question is relatively easy to answer in relation to older men. Any educational (or health) system which operates from a deficit model, "treating" older men as students, clients, customers (or patients), including in remedial and compensatory literacy and vocational programs, without accounting for their personal, social and community interests and needs (including their diverse masculinities), is at best insensitive and inappropriate, and at worst degrading and patronizing.
What adult and community education does exist, tends, for already marginalized groups, to be assistential, second chance and compensatory. In Australia and many other developed nations, adult and community education has tended for over 50 years to be women's sector, in which most men, particularly older men, do not feel welcomed, included or at home. In the UK also, men are known "to be more likely to learn at work or independently, and women are more likely to learn at publicly funded institutions of community facilities" (Schuller & Watson, 2009, p.70).
Gender aside, people have needs, including for learning, which relate very much to their life stages. While younger people tend to learn to develop their educational and social potential (Digital Britain Media Literacy Working Group, 2009, Table 2, p.18), adults in mid-age tend to learn to enhance their employment and to look after their families. By contrast, older people typically need to learn a whole new set of skills, to overcome the risk of social isolation and depression, to stay healthy and to remain independent. The older people get, the more they have to learn to adapt to change: to cope with new non-working identities, changes in mobility, health, financial and living arrangements as well as to changes in personal and family relationships. Much change in older life is existential and ontological. As Schuller and Watson (2009, p.109) put it, "[T]here can be few more important learning tasks than learning to make sense of the life you have lived."
Despite these diverse needs for lifelong and lifewide learning for and by adults, recent national surveys (ABS, 2006) in Australia have shown that only one half of all adults currently in paid work have completed an education or training course beyond school. Around one third of Australian adults (increasing with age) have such low prose, document and numeracy skills that they would struggle to cope with many daily tasks in the contemporary workplace, home or family setting, let alone participate in an accredited course of education or training (ibid.). Six out of ten Australians also failed the internationally benchmarked health literacy test, which presumably greatly complicates older people's struggle to independently maintain their health and wellbeing (ibid.) and remain socially included. All of these concerning statistics are significantly worse for older people in Australia whose early formal education was typically very brief.
And yet when I first naively "grazed" as a researcher into the area of men's learning I was assured that older men were missing because they were reluctant to learn, and that there was nothing they needed to know. Schuller and Watson (2009) cite "strong anecdotal evidence" from the UK "that women encourage each other more to learn, and support each other in their learning, at all ages" (p.70). My research over the past decade has proved each of these contentions, at best, to be only partly true in Australia. Research with men of all ages who are actively involved in community organisations (Golding, Brown, Foley & Harvey, 2009) such as through participation in voluntary fire and emergency service organisations, sporting clubs, age-related and men's special interest organisations, religious and Indigenous community organisations, show that most men need and want to learn, but not necessarily in formal, cognitive, literary and decontextualized ways. My research over the past decade shows that older men in Australia generally prefer to learn in familiar places and spaces, where it is regular, social, in groups, hands-on or outside.
"Learning" scares men away
A decade of research, most recently with colleagues Annette Foley and Mike Brown in Australia through the University of Ballarat, has identified that while older men have much that they need to learn in order to maintain their health and wellbeing and cope with radical changes as they age, they are much less likely to participate or be engaged if education, learning, health or wellbeing are fore-grounded and named as the activity or within the name of the program or the organization (Golding, Foley, Brown & Harvey, 2009).
In essence and for very good reasons, older men tend to avoid being put in situations and programs where they are at risk of being patronized or shamed for being illiterate or not knowing something.
Contrary to the negative, hegemonic stereotype of the "bullet proof", uncaring, and antisocial, older man, our research shows that most men beyond the workplace have a range of life-enhancing learning needs that are typically not available in market driven, vocational programs pitched to young people who are preparing for their first job or who are already in work. At the same time, health and wellbeing statistics show that men not in work are often in poor health, and that older men in particular are prone to social isolation, poor health, depression and suicide. Most older men surveyed and interviewed in our learning-focused research in Australia say that they want to develop identities beyond work, learn to stay fit and healthy, overcome social isolation and remain connected to the community. For most older men with and without a partner beyond work in Australia, this need includes somewhere to regularly go and contribute to the community, aside from being at home.
Given these complex (and sometimes contradictory) lifewide learning needs and preferences that older men have, it is unsurprising that participation in "off the shelf", vocationally oriented adult education and training programs are often perceived by older men to be unattractive, totally unsuited and inappropriate to them. Most older men have a lifetime of skills and experiences, but many have limited formal literacies and limited paid workforce aspirations, particularly where the learning is concentrated, formal, abstracted, distilled and named or fore-grounded as "education", or located in a setting where learning is the primary or only purpose or outcome.
All of this raises the question about whether any contexts can or could "tick" all of these boxes for older men. Our research has stumbled on one such context, that in Australia are collectively called "men's sheds", that have the capacity to holistically meet a wide range of needs for men beyond the paid work and to positively transform many men's later lives.
Men's sheds in community settings
While hands-on participation in workshop-type settings is known to be attractive to men in many nations, personal sheds in Australian back yards have been recognized as being particularly iconic for men for many decades. The term "shed" has long been applied also to many rural Australian community fire stations and sporting clubs, as well as to community spaces occupied by woodworking, railway, engine and farm machinery enthusiasts. Around fifteen years ago, in a very small number of locations and organisations across Australia, some men began to come out of their backyard sheds into community-based men's sheds. With the support of a very diverse range of community organizations concerned about men's health, wellbeing, productive ageing, social engagement and adult learning, the community "men's shed" has since become a highly successful, grassroots community space for men. Indeed, it is now recognized in Australia and a small number of other nations as a powerful and unstoppable "movement". While most of the men who participate in community men's sheds are older, retired or otherwise beyond paid work, some sheds actively involve and informally mentor unemployed younger men, school age children and men with a disability. The attraction is the opportunity to regularly socialize and "do stuff" together regularly in productive and salutogenic (health-giving) communities of men's practice.
The community "men's shed" movement has caught on and rapidly proliferated across much of populated Australia in less than 15 years. By May 2011 there were around 540 sheds open in Australia, with approximately 30 men's sheds open in New Zealand, 30 in Ireland and several in the UK and Canada. Most men's sheds rely heavily on the passionate voluntary contributions from the men themselves as well as from their local and regional communities. The State government in Victoria, Australia is the first in the world to fund men's shed start-ups as part of health, wellbeing and social inclusion policies. While the Australian government has recently funded the Australian Men's Sheds Association as a peak, national body to coordinate and support sheds along with its six State counterparts, most men's sheds still rely on some support from very diverse auspice or support organisations in equally diverse geographical communities. These organisations include war veterans, aged care, health and wellbeing, adult and community education, local government, church and Indigenous community organisations.
What goes on in a men's shed?
Unsurprisingly, all men's sheds tend to be different, catering for men's diverse needs in very diverse contexts and springing from these very diverse auspice and support organizations. What is typical is that men enthusiastically and voluntarily participate in communities of men's practice. The motto of the Australian Men's Sheds Association is that "Men don't talk face to face, they talk shoulder to shoulder".
In most cases, men make and do things together, practicing hands-on skills and former trades. In the majority of cases it is woodwork. In some it involves metal work, fixing machines or gardening. However in some sheds men simply sit and talk over a cuppa' (tea or coffee). In effect men are also remaking themselves. Men report feeling included and "at home" in their shed, developing a new social identity beyond paid work, and caring more for each other, for themselves, and by extension, for their partners and/or families. The articles and services from men's sheds typically help support both the shed and the communities or organisations that support or auspice them.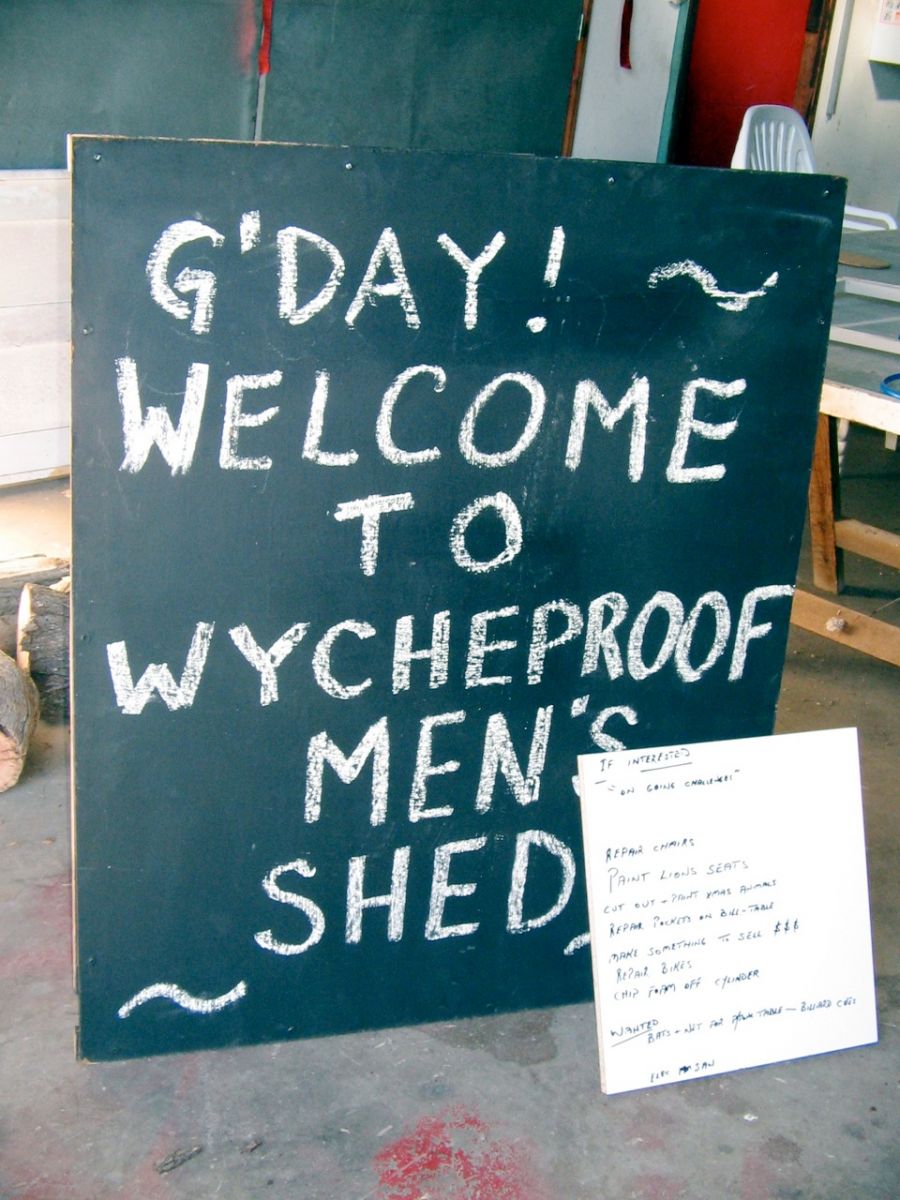 As alluded to above, and as anticipated in previous research in other, very diverse community contexts, men's sheds are innovative in that they give license to men to develop identities as men and mainly with men, in grassroots community settings beyond work, to learn to stay fit and healthy, to overcome depression and social isolation and remain connected with and contributing to their communities. The learning, health and wellbeing benefits, while significant, work best for men if the activities and the outcomes are not named or fore-grounded, and if men are not patronized as students, customers, patients or clients from ageist or deficit models. While there is no compulsion, older men who participate (median men's shed participant age is approximately 65 years) are typically passionate about their one day per week (on average) in the shed.
There are rarely teachers or programs, through there are coordinators and facilitators in the background who are responsible and who make sure that the shed and the equipment are safe. In the case of men's groups with high needs, such as men with dementia or acquired brain injury, the activity is often modified and the staff are more likely to be trained or paid specialists. The men who benefit most are those who are much less likely to voluntarily participate in adult and community education or to join a health or fitness program, particularly alongside women.
While men's sheds in community settings are an Australian invention, the interest and growing popularity of men's sheds in other nations on the other side of the globe is indicative of a grassroots need for many older men in nations experiencing population ageing to have a "third place", aside from paid work and home or family, where they can regularly, voluntarily, productively and enjoyably contribute to the community and learn informally with other men through an informal, grassroots, community organization.
My recent visits to several nations in Europe anticipate that there will likely be other hands-on or workshop-type places and spaces, not necessarily called "sheds" and not currently named as being specifically about or for men, that will prove to be amenable to a similar (but not identical) development in some parts of Europe. While new organization names will likely be found, some common themes are anticipated.
In several nations, some similar principles might be expected to apply to men participating in fire and emergency service, religious or sporting organisations, as in Australia. In some Mediterranean countries it might be the men's 'coffee clubs'. In Portugal it might be the pigeon racing clubs. In Ireland it might be the Gaelic Athletics Association. In Scandinavia it might have something to do with men's hunting or fishing. Wherever these men's places or spaces are, the common theme is anticipated to be the critically important interactions between positive community participation and social inclusion, men's health and wellbeing, and learning for life beyond work.
Links
Australian Men's Shed Association (AMSA)
References
Australian Bureau of Statistics ABS. (2006). Adult literacy and life skills survey, Summary results. Cat. No. 4228.0. Canberra:ABS.
Digital Britain Media Literacy Working Group. (2009). Report of the Digital Britain Media Literacy Working Group. London: Britain Media Literacy Working Group.
Dujo, A. & Garcia, V. (2009). Reflections on adult education in Spain. Lifelong Learning in Europe, 2, 245-251.
Eurostat. (2009). Significant country differences in adult learning. Retrieved November 5, 2009 from http://epp.eurostat.ec.europa.eu/cache/ITY_OFFPUB/KS-SF-09-044/EN/KS-SF-09-044-en.PDF summarized in Table 1 in Lifelong Learning in Europe 2, 2009, p.197.
Fullick, L. (2009). Poverty reduction and lifelong learning. Inquiry into the Future of Lifelong Learning. Leicester: NIACE.
Golding, B. (2010). Men's informal learning and wellbeing beyond the workplace, Chapter 4 in S. Jackson (Ed.) Innovations in lifelong learning. London: Routledge.
Golding, B., Brown, M., Foley, A., Harvey, J. & Gleeson, L. (2007). Men's sheds in Australia: Learning through community contexts. Adelaide: National Centre for Vocational Education Research.
Golding, B., Brown, M., Foley, A. & Harvey, J. (2009). Men's learning and wellbeing through community organisations in Western Australia. Report to Western Australia Department of Education and Training. Ballarat: University of Ballarat.
Golding, B., Davies, M & Volkoff, V. (2001). A consolidation of ACE research 1990-2000. Adelaide: National Centre for Vocational Education Research.
Golding, B., Foley, A., Brown, M. & Harvey, J. (2009). Senior men's learning and wellbeing through community participation in Australia. Report to National Seniors Productive Ageing Centre. Ballarat: University of Ballarat.
McGivney, V. (1999). Excluded men: Men who are missing from education and training. Leicester: NIACE.
McGivney, V. (2004). Men earn, women learn: Bridging the gender divide in education and training. Leicester: NIACE.
Schuller, T. & Watson, D. (2009). Learning through life: Inquiry into the future of lifelong learning. Leicester: NIACE.
Gems from the archives: From time to time we republish interesting articles from our past print issues. This article by Barry Golding was first published in our September issue of 2011.