The British NIACE (the National Institute of Adult Continuing Education) will fully merge with the Centre for Economic and Social Inclusion (CESI/Inclusion) in January 2016, creating a new organization called Learning and Work Institute (LWI).
The heads of NIACE and Inclusion, David Hughes and Dave Simmonds respectively, see the new LWI's potential as a powerful research and lobby organization, promoting lifelong learning, skills and employment.
Aiming for better resilience and broader expertise
Elm: Chief executive of NIACE David Hughes, why a merger?
David Hughes: Both organisations face great challenges, with painful public funding cuts. Together we have greater resilience.
In addition to issues of community, older learners, wellbeing and citizenship, NIACE's work has always also included issues of unemployment and workplace learning. For me, the merger with CESI is about bringing expertise of the world of work to complement our fortes.
Elm: On a practical level, what will change in the work of NIACE (as LWI) as a result of the merger?
David Hughes: Not a lot really. The LWI will carry out the work of both NIACE and Inclusion. We will develop a new dynamic, internally initially, between two sets of expertise which have not often worked together. I have been promoting more link-up between learning and employment for the last 15 years, and now have the opportunity to see what advice and support we can offer to make it work better.
Elm: Skills and employment are high on the agenda of LWI. Are non-formal adult education and leisure learning losing a champion?
David Hughes: There is no loss here. There is no hierarchy of why learning is so important, and often it is impossible and unwise to try to separate the personal and work-related motivations and outcomes.
NIACE has been a vital voice for lifelong learning for health, well-being, self-confidence, social interaction, tolerance, citizenship, fun – and we will carry on being that voice, as well as for helping people get work and promotions.
Elm: Education funds are being cut across Europe, and we are likely to see more mergers as a coping strategy. What advice would you give to other adult education organizations planning a merger?
David Hughes: The key is to find another organisation which shares your values and where personalities will not get in the way – we were very lucky on both counts with Inclusion. Once you have that, be very clear why you are doing it, what the steps are and what the timetable is. Then communicate it internally and externally so that you can bring people along with you. And you need some good luck as well.
Elm: Will there be reductions in staff in the merging organizations?
David Hughes: Not as a result of the merger, but the public funding cuts in the UK are severe and they may impact on our staff numbers.
Staff hopes for more advocacy influence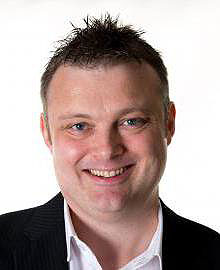 Photo: John Sargent
Kevin Campbell-Wright (photo above) works at NIACE as Project Officer specialising in innovative delivery, online learning and digital skills. Campbell-Wright anticipates a smooth transition into LWI.
Elm: How was the merger news received among NIACE employees?
Kevin Campbell-Wright: There is always some trepidation during times of change and staff needed reassurance that NIACE's values around lifelong learning would remain central to what we were doing.  Thankfully our Chief Executive, backed by our board, was always very clear that the new LWI would continue to be a voice for this sector.
Elm: What do you think will change most in your own work?
Kevin Campbell-Wright: I think most staff will continue with work as usual, so as not to lose momentum for the important work we are doing at the moment -for example our Citizens' Curriculum. There will be a new pool of skills we can draw on which will mean we get to play to our strengths more. As for me personally, the field of digital is one that evolves constantly and I expect my role to continue to evolve with it, irrespective of the name of the organisation.
Elm: What is your biggest positive expectation about the merger?
Kevin Campbell-Wright: I am hoping the merged organisation will increase our influence.
The Learning and Work Institute is a new name and brand, but essentially it is addressing the same opportunities and challenges, just in a more effective way. Britain is facing cuts that are unprecedented in my lifetime. Policy makers mustn't forget the real importance of adult learning and skills in getting people into work.  NIACE and Inclusion have been saying this for a while but now we have a chance to speak with a much stronger voice.
Elm: And your biggest fear?
Kevin Campbell-Wright: When it comes to fears, I've been a lifelong advocate for change and progression. When things are changing, it is really easy to focus on all the things that could go wrong, but it's rarely helpful to do so. I'd prefer to spend my time looking at the huge amount of work that's before us and look forward to tackling it in a way that is stronger than we've ever been able to do it before.
Final seal on merger plan in November
NIACE, headquartered in Leicester, is the UK's national adult learning advocacy organization. London-based Inclusion is a research organization focusing on social inclusion in the labour market. Merger intentions between the two organizations, already cooperating in a strategic alliance, were already revealed last summer but NIACE's Annual General Meeting sealed the move on the 4th November.