For the tech-savvy among you, the use of YouTube in education is as old as last week's meme. PBS Digital Studios started in 2012 and distributes video content on astrophysics, psychology and cultural studies among other topics. Khan Academy was launched back in 2006 and to date has about 2,400 videos on an even wider range of topics.
Into this mix has stepped the School of Life. Founded by writer and philosopher Alain de Botton and former curator of the Tate Modern Sophie Howarth, the School of Life is an organisation whose goals, though diverse, share a common thread: how to improve our emotional intelligence.
Through their quite short and at times amusing videos, they seek answers to questions even more puzzling than history or the cosmos, namely about love, work and generally how to live a more fulfilled life. Along the way, they enlist the ideas and works of notable figures from philosophy, literature, art, political science and sociology.
Not Your Typical Self-help
If this sounds a little too much like self-help, I empathise. When I first noticed the School in my YouTube video feed, I was wary, even dismissive. The name was too bold, too sure of its own mission. What exactly were they going to teach me about life?
Then, curiosity got the better. While it is true the approach can suffer from oversimplification, the School managed to convey ideas on our career choices, loneliness and relationships which were less idealised than the usual self-help advice.  They exhibited thoughtfulness instead of brash encouragement.
The tone is evident whether Botton uses Plato's allegory of the cave as a springboard for considering career anxieties or when he addresses the question of work satisfaction directly in How to Find Fulfilling Work.
This latter video offers admittedly useful advice: being confused about work is normal and part of this confusion stems from the surfeit of choice in modern society; in order to find fulfilling work we need to:
know ourselves, which may mean not worrying about money (advice easier given than necessarily received) ;
think a lot – our true calling may only become apparent after a year or more of deliberation; try something – we need to engage with the real world;
think about what people need;
lastly, and perhaps most obviously, be confident.
Concerning the last tip, the video is especially refreshing. Botton calls a lack of confidence a "misunderstanding", which "divides the world into the worthy and unworthy". He even goes as far to label it "internalised feudalism".
Presenting the solution to timidity as a simple change in perspective and not a complete personality makeover certainly makes it sound more attainable. However, a thorough strategy to implement this change is missing from the video.
A related video "Finding Meaningful Work" pares down the advice to three points. A meaningful job "taps into the deepest, most sincere, talented parts of us"; it serves people and its meaning is something we can viscerally feel.
Unlike the first video, this video focuses on the social and economic causes of dissatisfaction. Some jobs are meaningless because the end products are themselves meaningless. Or the scale of an enterprise is so large it diminishes any one individual's role.
The School of Life's solution is to develop stories because stories fix meaning and give the people within them a context, a place. It certain sounds more appealing, and creative, than robotically repeating affirmations.
Online Ideas Offline
Since the School's approach to job satisfaction appealed to me the most, I wanted to see how one of their seminars compared.
As it happened, in July 2016, the newly opened Berlin branch of the School of Life was holding a seminar on this very topic. (In German the seminar was called: Den Job finden der zu mir passt.)
The seminar was run by coach, trainer and speaker Philipp Karch, who is himself living proof of switching careers and finding satisfaction. Starting in environmental science, he moved to coaching as he was motivated to help resolve interpersonal conflicts.
I was able to have an interview with Karch just before the seminar.
The School of Life appealed to him because of its interdisciplinary nature and focus on what he called "unavoidable" questions about how to live our lives.
Karch pointed out that dissatisfaction with work in Germany is quite high. About two thirds of people simply work without passion. They "just do it" he said, placing a rather somber slant on the famous sporting goods slogan. And one in five consider leaving their job.
By way of comparison, a Eurostat article from 2015 placed Europe-wide worker dissatisfaction at just under 20%.
Karch reiterated a point made in the videos. The solution lies in our identity.
"If you acknowledge or identify the central element of these categories (values, interests, strengths) of yourself and make-up a job where you canlive these things then you're fine. But usually jobs come to the people," he said.
Signing Out of the PC and Signing Into Class
The solutions to these questions became more apparent during the seminar.
In total about 20 people aged from their early twenties to early forties turned up with twice as many women as men. The mood was convivial and relaxed, suggesting a book launch or exhibition opening rather than a talk on employment.
I heard YouTube mentioned, though according to the Berlin branch of the School of Life only 15% of participants came because of the online channel. Twice that number knew about the School from the Internet.
After snacks and a drink, people moved the School's seminar room.
Karch began conventionally enough. With the aid of PowerPoint and quotes from cultural historian Theodore Zeldin and philosopher Friedrich Nietzsche and a reference to Bill Murray, he engaged people to think about their career path and ask themselves what motivated them to make the choices they had.
This was the groundwork for us to develop a story of our career choices. We considered how money, value, goal, respect/appreciation, talents and strengths and, finally, interests figured in each decision and presented them in a series of connected circles, containing the reason for the decision. Instead of a life in stages, it was more a schematic of the untidy reality of choices we face.
This was our "job-story" which we shared in groups. I admit mine was more a half page of notes than the nicely-flowing diagram. But regardless of the final product, we were able to admit to the wrong turns, unrealised plans, right moves and unexpected fortunes, which formed a picture of ourselves.
A second, much longer brainstorming exercise rounded off the evening. Participants offered feedback to others in their group about how they saw them. Since it was in German, and my German is at best limited, I sat this one out.
Karch later explained its purpose.
"The fact that we ourselves don't see things since we have gotten used to the most common features of ourselves. Innovation might come from outside with a fresh view on our potential," he said.
This type of mutual engagement is obviously something which you cannot get come from a video alone.
Participant Feedback
But this was, admittedly my reporter's impression. I wanted the perspective of someone who had come to the seminar seeking some answers.
Marco Döscher was just the person. He had become aware of the School of Life from its YouTube Channel and enrolled to learn some life skills. The seminar on work which he attended a few months before the one in July offered him the tools to reconsider his career.
Those tools were asking the right questions, considering motivations and asking deep-rooted questions, which were not spoon-fed.
"It's more fulfilling or satisfying to find it yourself," he said.
In the end, Döscher left his career as a shoe-maker to enroll in university.
Feedback from participants who attended in July shared this positive appraisal. Words like "open", "inspiring" and "motivating" cropped up often. If you check the School's YouTube videos, you will see very similar reactions in the comments' section.
Karch did acknowledge one criticism. A participant from an earlier session was dissatisfied with his use of PowerPoint.
Stop Dreaming, Start Thinking
The clarity of approach is a noticeable strength of both the seminar and the videos. They demystify career choices. There was no "dream job"; it was more a case of determining a realistic goal.
In fact, it was presented as something of a puzzle: not a perplexing one, but one which engaged your critical faculties. As the former participant Döscher said, solving it was part of the reward.
However, I have some reservations, and it wasn't the use of PowerPoint. The underlying philosophy fits broadly into an individualistic approach. The School of Life does acknowledge the social and historical factors which determine choices, but the ultimate solution resides with you and me.
Whether you accept this approach or not may well depend on your own social and historical perspectives.
A further limitation concerned the videos.  The most beneficial advice on finding meaningful work became apparent in the seminar. From a marketing point of view, this may encourage people to sign up, but it does suggest the YouTube content only touches the surface. Only so much can be conveyed in 10 to 15 minutes.
Ironically, by using the Internet, the School of Life and other educational videos, are reinforcing education's fundamentally social nature.
A video can stimulate, but you need a class to be engaged.
The School of Life – dedicated to teaching "emotional intelligence"
– Started by Alain de Botton and Sophie Howarth in 2008
– Headquarters in London
– Other branches in Amsterdam, Antwerp, Berlin, Paris, Istanbul, Tel Avi, Seoul, Sydney, Melbourne and Sao Paulo
– Offers courses and produces videos and books on relationships, work, aging and health to name a few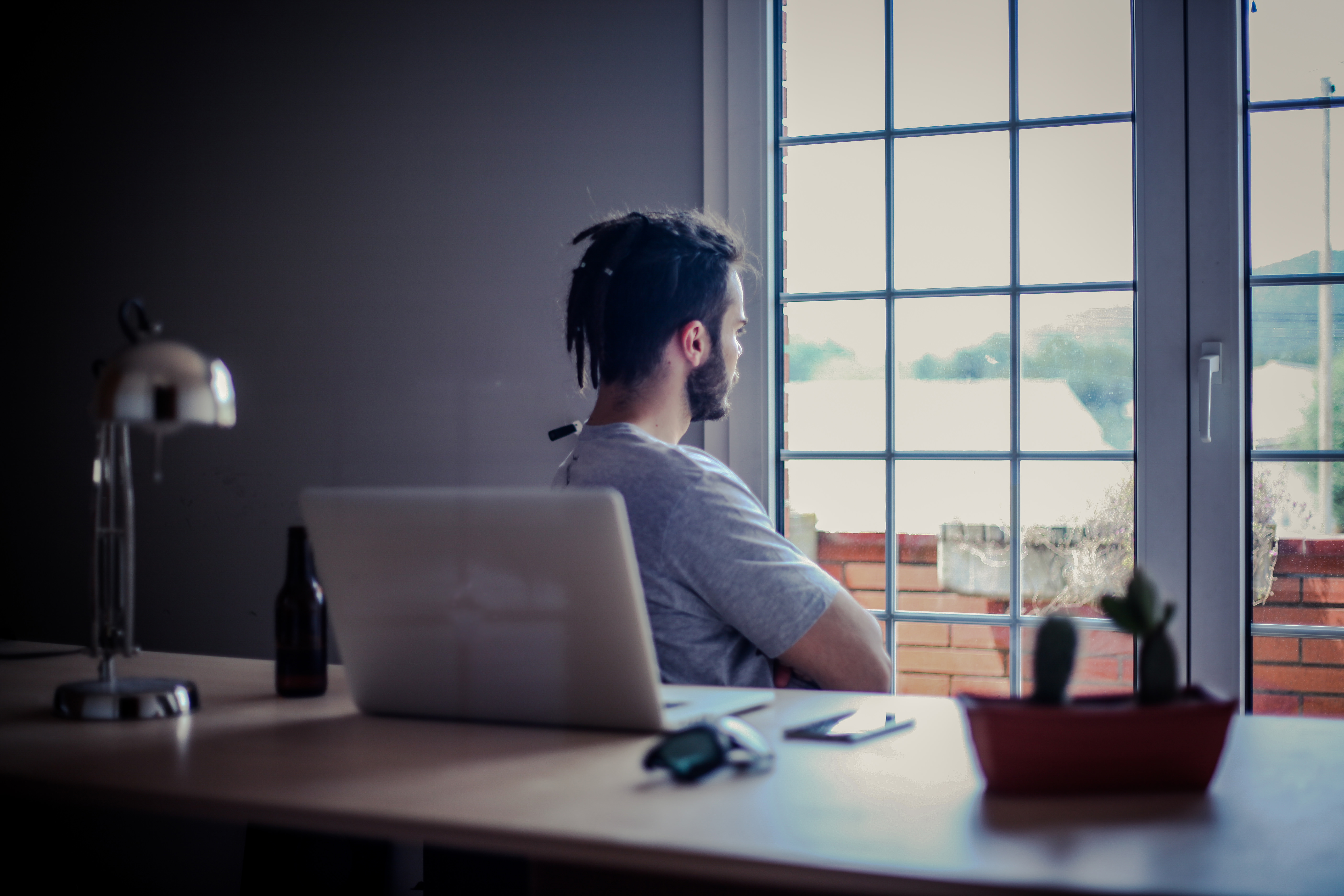 Photo: Hector Argüello Canals/ https://stocksnap.io/