Hanan Al-Hroub stands in the middle of her class room, surrounded by a group of pupils.
– No matter what the outside world may be, there is love and joy in my classroom, she says.
Only a few days earlier Pope Francis announced the second-grade teacher as the winner of a million-dollar-prize. Al-Hroub received her award at a Dubai gala for her work among children growing up amid violence.
The Global Teacher Prize is an award often called the "Nobel Prize of teaching". Over 8000 teachers from 148 countries were nominated to receive it this year.
Al-Hroub is hoping to raise a new Palestinian generation capable of breaking the vicious circle of violence. After all, the victims of the Israeli-Palestinian conflict are often children and youngsters. She is doing this work using methods developed by herself.
Pride of Palestine
The last winds of the Middle Eastern winter still retain a certain chill as we meet Al-Hroub at her school in the outskirts of Ramallah, the capital of the Palestinian territories.
The Samiha Khalil school lies close to the iconic Qalandia checkpoint and the refugee camp of Jalazone. The Israeli settlement of Beit El is visible in the horizon, in shining whiteness like a little lego block town. It is the hotspot of nearly all the conflicts in the Ramallah area that Europeans read about in their morning newspapers.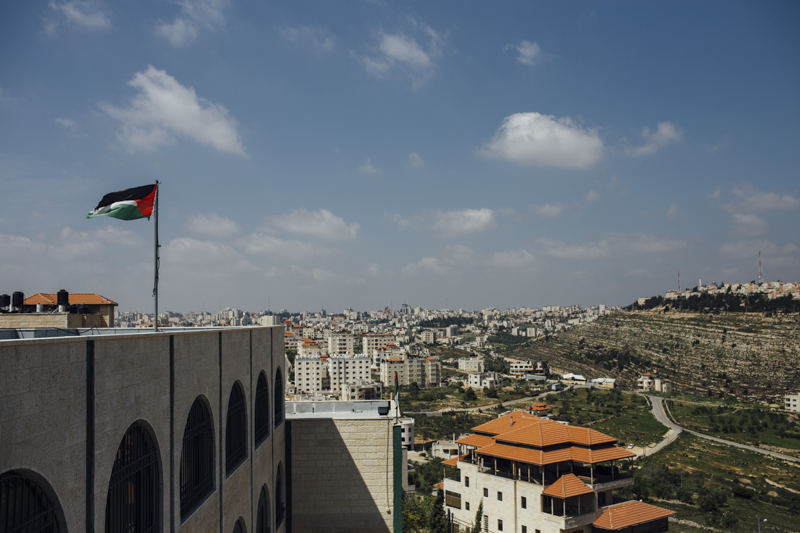 The turbulent settlement of Beit El nestles atop a hill near the Samiha Khalil school
We are met by a woman who seems exhausted – a stark contract to the images of the victorious teacher, beaming with her prize at the award gala.
We are certainly not the only foreign journalists that Hanan Al-Hroub has met in recent days. She is now the pride of occupied Palestine and its hottest celebrity -and everybody wants a piece of her. She is just back from a surprise party at the office of the Red Crescent, attended also by the Palestinian Prime Minister and Education Minister.
– Since I won, I have had appointments around the clock. But it is all good as I have the opportunity to talk about my work.
Children exposed to violence need shelter and joy
The Samiha Khalil is a public school with precious little resources for anything. Despite that, Al-Hroub's classroom is a festival of colour. She uses recycled materials and digs into her own pocket to furnish a pleasant learning environment. Some of the stools are used car tyres, repainted and upholstered.
The classroom of Hanan Al-Hroub: colourful, recycled and repainted.
The atmosphere in the class borders wild, and the spirit is intensely social. Only one glance from Al-Hroub at her pupils and she breaks into a smile, despite the exhaustion brought on by the new-found fame.
-These children grow up under occupation and are repeatedly exposed to violence. That is how they adopt violent behavior patterns. But the hate is not within the children, it is around them.
Al-Hroub knows this from her own experience. She grew up in poverty in the Dheisheh refugee camp in Bethlehem, in the shadow of the threat of violence. To this day refugee camps continue to be the focal points of the Israeli-Palestinian conflict.
Al-Hroub's education path was cut short when Palestinian universities were closed during the first Palestinian uprising, intifada. By the year 2000 Al-Hroub had managed to get back into education. In that same year Israeli soldiers fired at her family at a checkpoint. Her husband was hit in the shoulder, a female relative in the head. Al-Hroub's two daughters were severely traumatized by the experience.
Al-Hroub decided to become a teacher after the incident.
Play and learn
Al-Hroub calls her method Play and Learn. It is based on playing specific games in teams – the games are developed to combine learning and regulating one's behaviour.
Play and serious themes go hand in hand in Al-Hroub's pedagogy.
– Pupils recognize their own strenghts, and those of others. They build teams to play games with specific rules and decide group roles based on the strengths. For example, if someone has neat handwriting, he or she writes. If someone is good at presentations, he or she will present. There is never a leader in a group but rather everyone is a leader in their own specialism, Al-Hroub describes.
How does this method then benefit traumatized children? In many ways, Al-Hroub answers.
Firstly, the children learn to adapt their behaviour and moderate their feelings and impulses.
– As a teacher I recognize the children's weaknesses, and I purposefully create circumstances where the games grind to a halt if even one member acts against the group. I encourage shy pupils to take part and dominant ones to give space to others. And violent behaviour is always forbidden.
The children will follow these group rules because it is a game. Even shy ones love games. Everybody wants to win the game and win approval in the group and consequently do their best to improve their behaviour.
Secondly, the method guides the pupils to interact with each other. This is a skill that will benefit them through life.
– If a team loses a particular game, the pupils discuss together what went wrong.
Playing games can be a force for integration
Every aspect of Al-Hroub's pedagogy is rooted in games and playing  – and the pupils seem to love it. In the process, almost unnoticed, they develop positive attitudes towards education.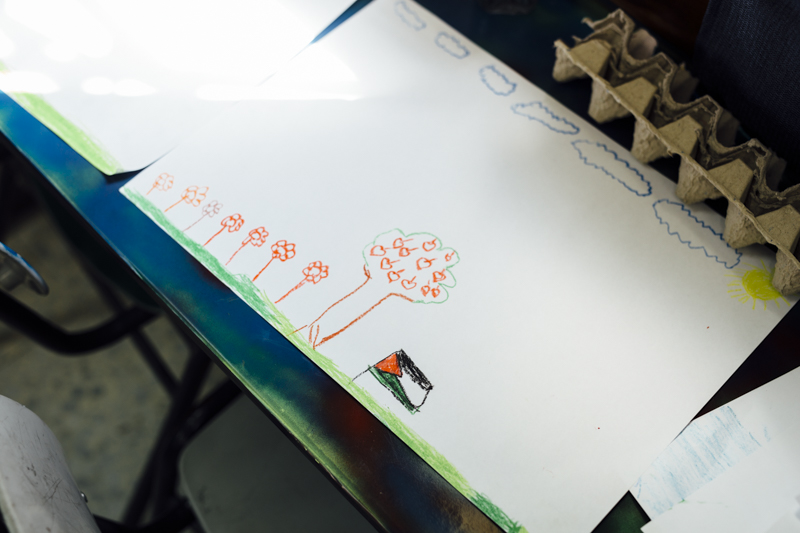 A Palestinian flag flies among fruit trees in a pupil's drawing.
– I try to foster attitudes that are positive towards learning. I'd like to see my pupils educate themselves further. I also focus on values. I want them to be able to make sensible choices as adults, Al-Hroub says.
Hanan Al-Hroub's thoughts should be well noted also in Europe, amid hardened public stances against refugees and concern for their integration in their new homelands.
How would Al-Hroub advise European educators, working with traumatized children and youngsters fleeing violence?
She urges educators to remember that moving into a strange country is already scary.
– Having fun and playing games can help in this, just like in Palestine. When an immigrant plays local games with local children, that surely helps in feeling more at home, and aids in adapting one's behavior to the host country culture.
The status of Palestinian women is still weak.
Awarding Hanan Al-Hroub with the Global Teacher Prize is an unprecedented success story for Palestine -also for the cause of Palestinian women.
In Palestine, women still struggle more in working life compared to men. The biggest universities in Palestine have a female majority but after graduation and marriage women often become homemakers. The Palestinian society hence produces university-educated stay-at-home mothers.
Al-Hroub thanks her husband for playing a crucial role in her success.
– We do this work side by side. My husband has always supported me and helped me forward.
But there is an even more important aspect to Al-Hroub's success.
– Women need to believe in themselves and their possibilities.
Palestine is now the centre of attention for educators because of the award, but in the country itself teachers enjoy little respect. The low status is reflected in salaries. A teacher typically makes 450 to 550 Euros a month. The teaching profession is female-dominated, regardless of the taught subject. Being a teacher is a modest profession, "suitable" for a woman.
Now, contrary to all expectations, a Palestinian public school teacher, living amid violence, has reached the highest summit of her profession, and climbed into global spotlight.
All photos by Anna Tervahartiala. Tervahartiala is a Finnish photojournalist who teaches photography in the Finnish Lifelong Learning Foundation's Palestine media project.
Translation and minor adaptation by Markus Palmén. First published in Finnish in Souli media, published by the Finnish Lifelong Learning Foundation.