How do we ensure that everyone has an equal chance at a good life?
What can we do right now to ensure the wellbeing of future generations?
What concrete action can we take in our community now, to ensure wellbeing for the next hundred years?
Huge questions, bordering on unanswerable in their solemn grandeur. Yet, they are meant to be answered, in a concrete fashion, in half an hour, by ordinary Finnish citizens.
Year 2017 marks the centenary of Finnish independence. Consequently, this year the calendar is sprinkled with events, big and small, state-official and informal, to celebrate the occasion. The Finnish Lifelong Learning Foundation, the country´s oldest organization of non-formal learning, marks the centenary by arranging a string of citizens´ discussions throughout the country. The topic? The three questions mentioned above.
World Café method: Shifting viewpoints
The tour of discussions, titled 100 steps towards the Finnish future, visits over 30 cities and communities throughout the country. The idea is to bring ordinary people from all backgrounds and ages together in an informal setting to discuss wellbeing of contemporary and future Finns. The ideas, hopes and insights of the discussions will be recorded by the organizer and later taken to decision makers.
The method powering the discussions is the World Café process. The World Café has its roots in the United States from where it has spread around the world to be used in different sectors from business to education. Its core idea: to produce knowledge and ideas together in a group, in dialogue, changing viewpoints and seeking consensus.
"Café" in the name refers to an ideally informal, low-threshold atmosphere during a discussion session. A session may physically resemble a café, with participants sitting at round tables, each table dedicated to a question topic, and with attendees possibly taking turns at different tables. A facilitator often sits at each table, ensuring the smooth running of the discussion.
A session normally lasts around three hours (introduction, an half-hour discussion, voting on ideas) and has a predetermined set of questions which attendees want to contemplate. The resulting ideas are then voted on by all attendees, aiming at concrete, consensual and collective opinions.
Build your own discussion
Helsinki-based community educator Pihla Ruuskanen has used deliberative World Café in her work for years and is an active trainer of the method. Ruuskanen consulted on the planning of the 100 steps discussions, and believes the World Café to be a powerful tool in any adult educator´s toolkit, particularly in settings where groups need to think and learn together.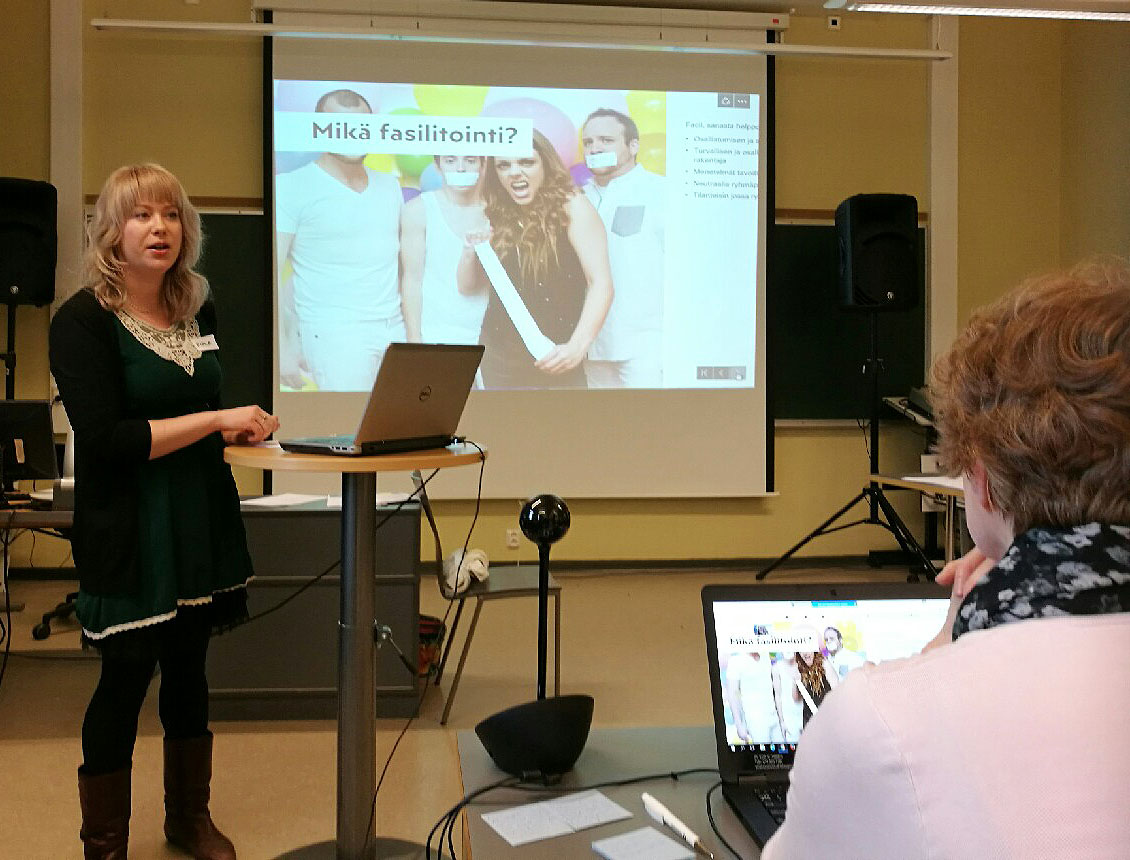 Pihla Ruuskanen (left) coaching adult educators in World Café facilitation. / Photo: Annu Griñan
Ruuskanen compiled a list of tips for a successful deliberative World Café session from an organizers´s and facilitator´s perspective, along with solutions to common pitfalls, applicable also to other types of group learning.
Formulate the discussion questions carefully
-The World Café method is best suited for situations where a large group of people need to develop a consensual opinion to a particular question or problem.
-Formulate questions that produce concrete and useable, applicable ideas. For example: "What kind of course content should we develop this year to better cater for recently-arrived immigrant learners?" is better than the more abstract "What kind of courses would be interesting for immigrants?"
-Draft a short list of auxiliary questions for the facilitator that elaborate on the main questions. If the discussion stalls, use the auxiliary questions to restart the conversation.
Create a laid-back atmosphere
-Creating a positive, stressless atmosphere is a key ingredient in the success of a World Café.
-Avoid "putting people on the spot" straight away. A round of introduction where every participant introduces themselves to the group might cause nervousness instead of breaking the ice.
-React to and curb comments that are inappropriate, aggressive or directed at someone´s person.
Time your session
-A typical session would take 30 minutes. A good breakdown of this time could be 15 minutes of discussion followed by a facilitator´s summary of what has been discussed so far. Then use another 15 minutes of fleshing out concrete statements and ideas out of what has been discussed, followed by writing down the results.
Maintain common ground
-A World Café session brings together people from different backgrounds, yet discussion with the same concepts and on an equal standing must be possible.
-Ensure all used concepts are understood by all and ask participants to break down abstractions into concrete examples.
– Use the same language and concepts as the participants when summarising to prevent conceptual confusion.
Encourage subjective opinions
-It often happens that a discussion table is shared by a dominant, opinionated participant and a quieter, perhaps insecure attendee. Yet, both have the right to voice their opinions.
-Clarify to the participants that opinions need not be fully-formed to be expressed. The discussion is also a learning process. Opinions based on personal experience and emotion are allowed -they give a valuable subjective viewpoint to the topic, something a fact-oriented expert can also learn from.
-If a participant clearly dominates a discussion, actively encourage others to voice opinions. The facilitator can even interrupt long, rambling monologues.
-Don´t fear silence and don´t feel obliged to fill silent moments with talk. A thinking pause might encourage more silent members to voice their opinions.
Set realistic expectations
-The World Café is a powerful tool, but half an hour is a short time to solve major problems. Dialogue is the core of World Café in good and bad: the trajectory of a discussion depends greatly on participants´ skill in formulating and arguing their opinions in a short time.
-Consequently, a World Café discussion need not solve everything – rather it can be a kickoff for a bigger process.
Read more about the World Café method.
100 steps towards the Finnish future
100 steps towards the Finnish future is The Finnish Lifelong Learning Foundation´s flagship project for 2017, the centenary of Finnish independence. 100 steps invites ordinary Finns from all walks of life to participate in a string of citizens´ discussions on wellbeing, in over 30 cities and smaller communities. The discussions are arranged in cooperation with local adult education centres which host the events.
The hopes, concerns and concrete ideas of citizens are collected by the organizers and eventually published online to spark an even broader nationwide discussion. The ideas are also submitted to youth panels across the country to allow the growing generations to comment and contribute to them.
The method used in 100 steps is "deliberative" World Café, a variation of the method. This means that the discussion aims at producing a transparent and high-quality dialogue based on knowledge, facts or contextualization previously offered to participants.
At the time of writing, in February, the discussion tour has reached 10 communities.
Project coordinator Anne Tastula of the Finnish Lifelong Learning Foundation thinks the discussions are off to a good start.
– Typically participants are a bit reserved when they first enter the discussion venue. But once the conversation starts flowing, it is hard to stop it even when time runs out. People discuss the themes even on breaks. Remember most of these people are strangers to each other.
According to Tastula, three big themes concerning future well-being in Finland have spontaneously emerged from nearly all conversations. Education, environment and a sense of community.
– Education is often mentioned in the sense that raising the next generation is so important, and also families need support in this. The need for a sustainable lifestyle comes up constantly, as does the need to "be on the same team" as citizens instead of having different camps and divides.
The World Café method has been met with enthusiasm, with many participants intending to use it in other contexts.
– On the other hand, many participants have found it hard to formulate concrete suggestions from such big abstract questions, Tastula explains.
– These conversations have proved to be quite profound learning experiences. I recall the words of one participant after a discussion: "I learned so much of other realities today. I live a stable pensioner's life, and although I am active in my community, I had no idea that people can have such different lifestyles and ideas."
The Finnish Lifelong Learning Foundation is the main publisher of Elm Magazine.