Orientation
Youth unemployment
LLinE opens its first issue of the year with the theme of youth unemployment. The choice of topic is almost foolhardy for two reasons. The first is that the theme could not be more topical. The problem seems so complex and societal stakes so high that it is a a daunting task to approach the issue, let alone explore possible remedies.
The second reason is that it is difficult to come up with added value to a debate where almost everything has been already said and heard.
We nevertheless think that the voice of adult educators should be more audible in the public debate of curbing youth unemployment. There are innovative good practices to be shared and heard by policy makers – The policy focus is strong in this issue.
Another voice that should be more heard is that of the young unemployed person himself or herself. Those voices are also present in the issue.
Improving our online experience
In addition to youth unemployment content LLinE offers topical non-thematic articles as well. You can distinguish thematic content in the list below by the (!) symbol.
This issue marks the official launch of the online version of LLinE. The site is improved by feedback received for our December beta version. The monthly newsletter keeps you updated on latest topical phenomena on the adult education radar. Our archives are now open- we will build it up to include the entire LLinE backlog from the last ten years, for free. The journal also makes more use of multimedia.
InfoNet cooperation
Several pieces of content in this issue have been produced together with InfoNet Adult Education. InfoNet is a European project networking adult education journalists and other activists. LLinE and InfoNet are currently exploring ways of teaming up together to produce unique content for the adult education professional. This issue avails of InfoNet's continent-wide correspondent network and local expertise in several articles.
Intime Ontime
A tour of 18 European countries with a focus on youth unemployment. InfoNet correspondents relay where the unemployment figures stand currently in their country. What is the role of adult learning in fighting the crisis?
This section features also other topical news from the adult education world, among them in-depth information on the running-down of adult education infrastructure in Portugal in Carlos Ribeiro's Is Portugal dismantling grassroots adult education?
Research
Alexis Kokkos
! Need of enhancing core skills: the Greek case
The lack of core work skills is a structural cause for soaring youth unemployment in Greece. Alexis Kokkos' paper examines the economic, educational and psychosocial factors contributing to this deficit.

Robert MacDonald
! Underemployment and precarité: the new condition of youth?
Total unemployment is only one side of the coin of the jobs crisis facing young Europeans. This article focuses on the wider problem of underemployment. Precarious work, churning between temporary contracts and unemployment has become the norm for the low-skilled and higher-educated alike. We are witnessing, the author argues, the birth of a "new social generation" whose prospects are defined by insecurity.
Pia Cort
! Motivating young people for education
The role of folk high schools
In Denmark the state is actively using folk high schools to help youth at risk of exclusion back into studies. Drawing on empirical research results, Pia Cort argues that folk high schools and the tradition of liberal education offer a learning environment where a number of psychological needs are satisfied among the young people leading to a motivation for learning.
Policy
Lars Djernaes
! A Nordic perspective on youth unemployment
Is youth unemployment threatening the Nordic welfare state? Sweden seems to thinks so as it has named working life of the youth as one of its main themes for its 2013 presidency of the Nordic Council of Ministers. Lars Djernaes elaborates on the presidency themes.
Lorenz Lassnigg, Kerstin Schmitz and Rudolf Strahm
! What are they doing right? 3 cases
Austria, Germany and Switzerland all have low youth unemployment rates compared to fellow European countries. They must be doing something right: What good practices could be shared in education and policy?
Rebecca Ye
! Youth unemployment in Singapore: an overview
Having a case of Euro-crisis fatigue? A glimpse into the Far East could challenge the way we think about unemployment policy, education and economic planning.
People
Maria Salzano, Oriana Tricarico, Patricia Umbelino and Karita Sainio
! "Living in the dark…" European voices about work
We know the unemployment figures. But what does it feel like to have no job prospects? And is "downshifting" a luxury few can afford or a real life-changer?
Katarina Popovic
Learning motivation – European problem?
"Learning motivation" is an understatement when your desire to learn overpowers your fear of death. Katarina Popovic talks to Jamila, an Afghan woman who studied English under the gaze of the Taliban.
Advocacy
Claudia Franken
! Case: Short workstays abroad combat exclusion
Unemployment leads to social exclusion for many youths. An EU-project Eguidya discovered that workstays abroad are effective in boosting self-esteem and life and work skills for disadvantaged youth.
Review
Renée Aeschlimann and Stephen P. Heyneman
TED talks – inspiration or stand up?
TED talks, a successful brand of internet lectures, are loved by many for their wit, humor and substance. Critics say they relegate scientists to stand up entertainers. Renée Aeschlimann and Stephen Heyneman take a look at TED talks focusing on education.

LLinE gives heartfelt thanks to all the peer reviewers who gave their time and expertise for us in 2012:
Stephen Billett
David Boud
Ulrik Brandi
Stan De Spiegelaere
Per-Erik Ellström
Mary Claire Halvorson
Tomi Haukola
Steen Høyrup
Kristiina Kumpulainen
Benedicte Madsen
Maja Maksimovic
Jyri Manninen
Loek Nieuwenhuis
Katarina Popovic
Orina Price
Sari Yli-Kauhaluoma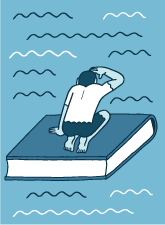 Issue picture by Eevi Rutanen